Synopsis

Our company currently has more than 50 kinds of grain processing machines, covering the entire grain field, including corn dehulling and flour milling, soybeans, peas, mung beans, eyebrow beans, lentils, black beans, kidney beans, broad beans and other legumes dehulling deep processing technology development and application.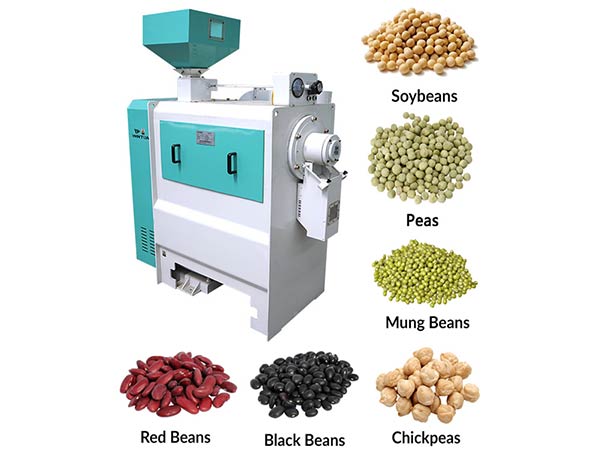 Nowadays, with the rapid development of mechanization, bean peeling machines have almost replaced manpower, and have exerted greater influence in today's market. The following editor will introduce the special bean peeling machine manufacturers to everyone.
  Bean peeling machine is suitable for the dry peeling and separation of soybeans (soy beans), black beans, mung beans, peas, almonds and other beans. It has two functions of peeling and separation. It has high peeling rate, reliable quality, high efficiency and energy saving, and easy operation. .
  The special bean peeling machine has reasonable design, parallel grinding wheel structure, simple operation, convenient maintenance and high whole grain rate. It is a new type of high-efficiency professional peeling equipment for processing mung bean, rice, red bean, soybean kernel, black bean kernel, etc. It is a domestic bean Advanced model of peeling machine.
  The dedicated bean peeling machine is easy to maintain and easy to operate. The main body shell is sprayed with thickened steel plate, which is clean, hygienic and tidy, and durable, leaving no hidden dangers for future food inspection; the peeling effect is good, the finished product is high in integrity, there are few broken particles, and the yield is high.
  The peeling machine produced by the special bean peeling machine manufacturer can automatically separate the skin and bean kernels along their respective tracks under the action of a fan, peeling thoroughly without damaging the bean kernels, and is the first choice for users in bean food processing and tofu processing.
  The special bean peeling machine manufacturer meets the different needs of various industries with its unique design concept, sophisticated equipment and advanced technology, allowing you to purchase a set of products in the fierce market competition, occupying a market, and spreading glory.
  The peeling machine plays an important role in our lives, and we must do the corresponding maintenance work on it, so that it can have a longer service life.