Nuts Dehulling and Separating Machine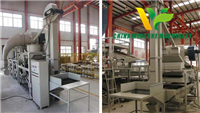 Grain Processing Equipment
Castor Bean Dehulling and Separating Machine
Manufacturer:

WinTone Machinery

Customization:

Can be customized

Whether it is in stock:

please ask customer service for real-time query

Production cycle:

3-15 days for different equipment

Delivery method:

land and sea

Price:

Please consult customer service for the latest quotation
E-mail
Chat
Inquiry
Product Information
Castor Bean Dehulling and Separating Machine
  Functions and Features:
  On the basis of existing patented products of our company, castor bean dehulling and separating equipment is a brand-new product and it's an original technology and therefore there is no similar product found yet worldwide currently. It can be used to dehull, remove shells and separate nuts-kernels works properly,meanwhile the unhulled seeds will go back to dehullers for second round of dehulling.
  In view of these facts, the seeds are small in size and very small clearance in-between shell and kernel, we design the dehullers with low frequency to increase the dehulling efficiency and meanwhile decrease the percentage of broken kernels.
  And after dehulling in view of the mixture of shells, seeds and kernels, we adopt the negative pressure vibrating separator to sort out all the shells, and discharge the shells out through shells-discharger.
  Seeds-kernels separator is our company's patented product, which combine gravity separation with vibration to achieve the percentage of seeds in final kernels less than 1%. Circular dehulling make silymarin seeds 100% dehulled. The unhulled seeds after first round of dehulling will be lifted by elevator to dehullers for re-hulling.
  It features easy operation, high degree of automation, safe and reliable, beautiful and durable. And it's an optimum equipment for large-scale, small and medium-sized enterprises who are in oil crushing industry with castor bean kernels or in pharmaceutical industry made of castor bean shells or husks.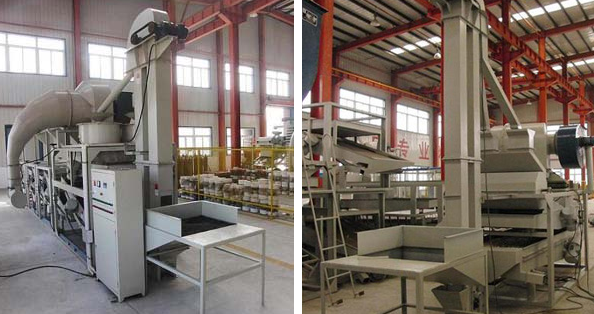 Components:
  The equipment consists of input hopper, sizing machine, elevator, dehullers, shells separator, shells-seeds-kernels separator and electric control cabinet.
  Process:
  Feeing → sizing(3 sizes) →elelvating(one of the 3 sizes)→ dehulling → separating → castor bean kernels
  Technical parameters:
  Power:4.36kw (380v 3 phase 50Hz)
  Input capacity: 300kgs/hour
  % of seeds in final kernels: 2% max.
  % of kernels in shells or husks: 0.5%max.
  Space occupied: 8m×2.5m
  Height: 2.8m
  weight: 4 mts
INQUIRY
Get In Touch
Don't Hesitated To Conatct With WinTone