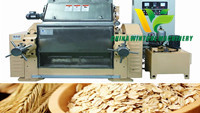 Grain Processing Equipment
Oat Processing Plant
Manufacturer:

WinTone Machinery

Customization:

Can be customized

Whether it is in stock:

please ask customer service for real-time query

Production cycle:

3-15 days for different equipment

Delivery method:

land and sea

Price:

Please consult customer service for the latest quotation
E-mail
Chat
Inquiry
Product Information
Oat processing plant can process oat by dehulling, oat flaking and oat grinding. Here, we mainly introduce about oat processing plant for oat flakes production. Oat flakes can reduce blood fat, resist cancer, resist high blood viscosity and control obesity. Besides, oat flakes are easily cooked and have good taste. Therefore, oat flakes are well received by more and more people.



Oat processing plant produces oat flakes according to the procedures below:
Naked oats→cleaning→hulling→washing→spin-drying→thermal treatment of enzyme deactivation→cutting→steaming→flaking→drying→cooling→packaging→finished products
Oat processing plant technological features:
First, the naked oats are processed by cleaning and steam softening. Then the material passes the feeding device of the oat flakes machine, and is sent continuously and evenly to the place between the two rollers which have certain interval and pressure.
Next, the oats are rolled into flakes according to the technological requirements. Then it has a centralized processing by scraper device and enters the next section. If there has foreign hard matter mixing into the material and entering between the two rollers, then the hard matter will force the two rollers to be affected by a reactive force. It struts the tooth rollers forcibly by hydraulic system (or spring effect) so as to make the tooth roller, shaft block and bolt have effective protection.
After the hard matter passing, the tooth rollers recover to the normal working station automatically.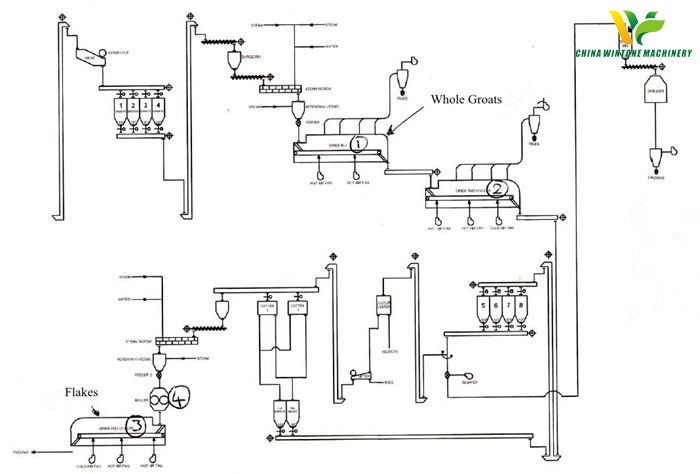 Oat processing plant technical parameter:
Type

Total Power(kw)

Roller Diameter
(mm)

Roller Length
(mm)

Flakes Thickness
(mm)

Roller RPM
(r/min)

Dimension L*W*H
(mm)

10-15T/D

11.55

250

500

0.25-0.4

265

1160*850*1230

30-40T/D

32

600

800

0.25-0.4

295

1700*1635*1600

40-50T/D

39

600

1000

0.25-0.4

295

1900*1635*1600
INQUIRY
Get In Touch
Don't Hesitated To Conatct With WinTone